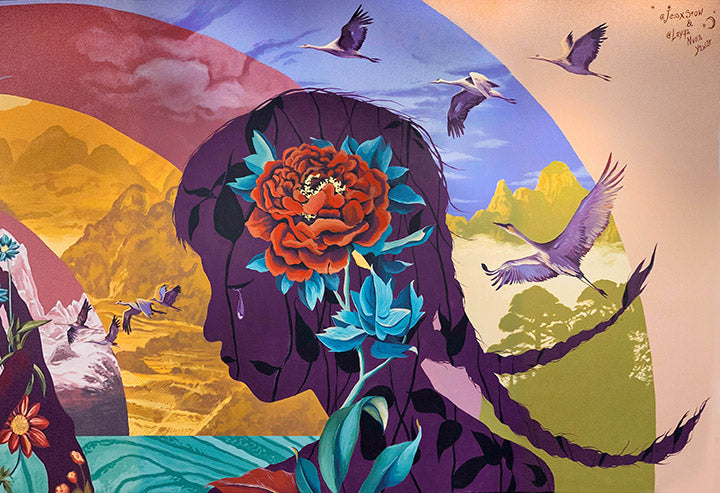 Heliotrope Prints
Jess X Snow
Details
Artist: JESS X SNOW
Title: We Carry The Distance Migrated By Our Mothers
About the print: 
Unsigned
Archival Pigment Print on Hahnemuhle 210gsm 50% rag watercolor paper
13″x19″ paper size 
Hand-numbered edition of 250 
Embossed with the Heliotrope Foundation logo
Jess X Snow created this piece as a collaboration with artist Layqa Nuna Yawar. It was originally produced as the right side of a wall mural at the World Cafe of the Ford Foundation.
"For many migrants, seeds from their homelands are brought to the U. S. by their mothers and grandmothers. Each seed is a time capsule that can be planted in their new home. In these two collaborative murals, migrant artists: Jess X. Snow and Layqa Nuna Yawar collectively trace their ancestral roots of the Incan ruins and Andean active volcanoes of Ecuador, and the fog covered mountains and rice terraces of southeastern China. The silhouettes used are the artist's interpretation of their own childhood selves. The hands depicted are that of the artists' own mother. Along with symbolic flowers indigenous to each of our homelands, woven into the mural are ingredients used in diasporic cuisine that were carried by our mothers when they brought us to America. Seeds that bloom into bell flowers and peonies indigenous to Ecuador and China have also travelled with our people across borders along with the cranes, condors, and hummingbirds. When we map the oceans and mountains that our families crossed to get to America and create self portraits from collages of our own homelands, we give name and voice to the lands we lost. We reclaim our heritage, and heal ourselves, each other, and our own families from the inter-generational traumas caused by migration." - Jess X Snow
About the Artist: Jess X. Snow is an Asian-Canadian film director, artist, cinematographer and poet currently based in Brooklyn, NY making work both in the USA and China. Through film, large-scale murals, children's books and community art education, they are working to build a future where LGBTQ+ and migrant people of color may see themselves heroic on the big screen and city walls & discover in their own bodies; a sanctuary for healing and collective liberation. By merging a background of arts activism and trauma-informed healing practices with filmmaking, they bring together queer diasporic communities of color and allies to create inter-generational and bi-lingual stories. Their film work spans fantasy, science fiction, documentary, romantic drama and musical and has been supported with grants and fellowships from the Tribeca Film Institute, Canada Council of the Arts, the Smithsonian Asian Pacific Center, and Inside Out: Refocus Fund. Their murals and artwork have appeared on walls across the country and featured on PBS Newshour, The LA Times, the SF Chronicle, and and Library of Congress. Their political graphics has been used in Women's March on Washington, the immigrant rights movement, as well as on college campuses to address and put an end to rape culture.